3. Tutor Orial


Tutor Orial
Desktop • UX/UI Design


Project Introduction
This research project is about redesigning Tutor Orial, an online tutor teaching website. We analyzed and improved on the original error cases and redesigned it with a clear flow and functionality. This website is a professional platform that offers students of all levels of education the freedom to choose online courses.

Design Goal
Improve the user experience of finding the right teacher and booking lessons.




Task
Research
Ideation
Low-Fi Prototpye
Usability Testing
Synthesis
Visual Design
Final UI


Project Type
School Project
Independent

Timeline
2 months





Research


Heuristic Evaluation
Focusing on usability issues & flow

I did a heuristic analysis of the original website through a class discussion



I collected feedback for each page and summarized the problems that the website had.

During the Heuristic Evaluation process, I have learned the importance of flow clarity from cases with problems. The importance of complete and clear information.




Adjacent Industry Audit
Familiar interaction patterns & opportunities

I browsed the official websites of large companies and analyzed the interactive paths and design advantages in the websites

Based on the analysis, I believe that a simple and straightforward design helps to provide a convenient and accurate user experience.


Ideation


Brainstorming & Sketches
Design Goal: Clean, Simple, Straightforward


Low-Fi Prototypes
There are the two paths, and they differ mainly in program order and site functionality.


Flow1

Users have to login or register after browsing the login screen. Next, they will be able to filter the courses and browse the general information of the teachers. After completing the payment, they will receive a confirmation letter. The feature here is to have a personal account center where users can control messages and course adjustments.
Flow2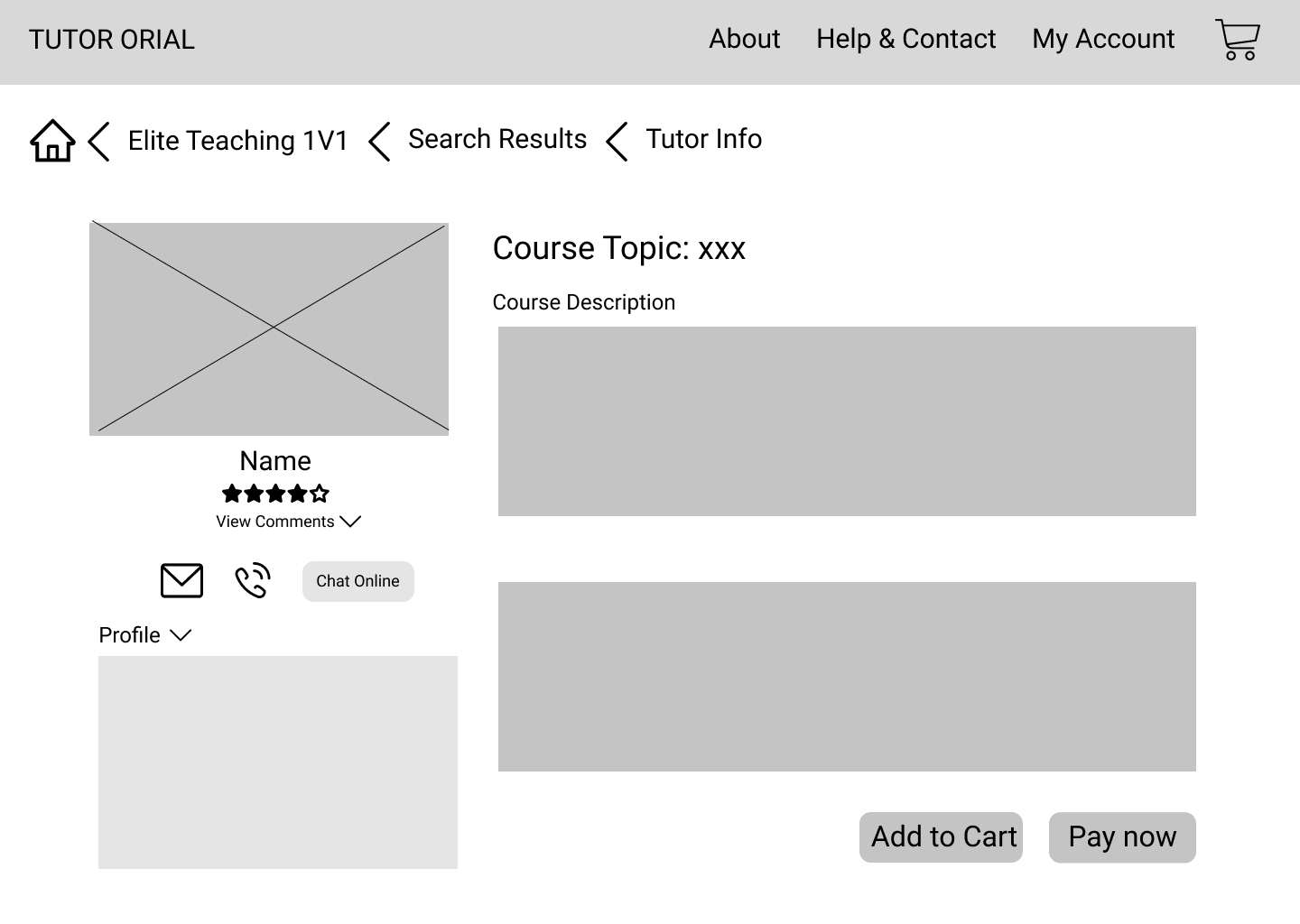 After browsing the login screen, users do not have to login or register. The login or registration will be placed before the payment page. They can filter the courses as a visitor, browse the general information about the teacher and the teacher's details. The feature here is a shopping cart where users can add courses and double check if this is the result they want.
Usability Testing


Usability Plan


Interviewer 1
Name: Vincent
Age:23
Major: Technology management
Job: Student

Interviewer 2 & 3
Name: Lena & Thao
Age: 23-25
Job: Student
Major: Communication Design

Interviewer 4
Name: Anlan
Age:26
Job: Student
Major: Fashion Photography

Interview 5
Name: Dong
Age: 30+
Job: Google engineer
Major: Computer Science



Script and Notes

Script



Interview Notes

Synthesis


The interviewer gave feedback based on my design prototype and script, which I summarized and labeled, and summarized the issues that could be optimized
Problems Discovery & Solutions
Visual Design

Final UI